Easy and Inexpensive Ways to Add Color to Your Kitchen or Bath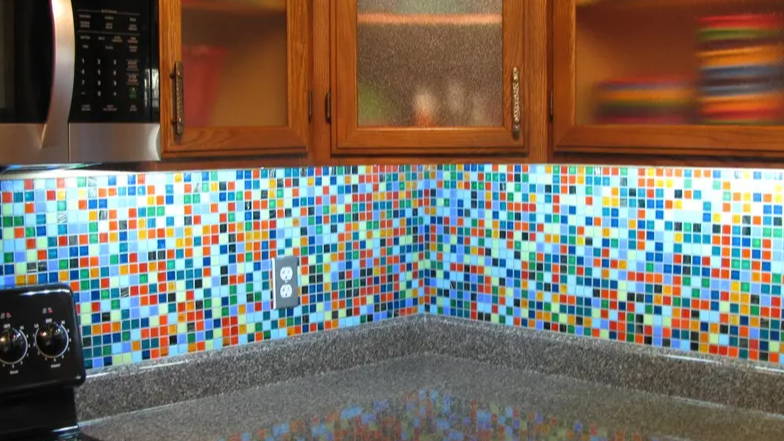 Traditionally, kitchen renovations are one of the most expensive (and sometimes difficult) projects to tackle in a home. However, there are simple ways to brighten and modernize your kitchen without spending a fortune, and installing a new mosaic backsplash is at the top of that list.
Depending on the size and the layout of the kitchen, a standard backsplash covers anywhere from 15 to 30 s.f. on average. This square footage is a relatively small area to redesign but offers a lot of "punch" when it is completed.
A mid-sized backsplash of around 20 s.f. can be redesigned for as little as $100-$200 in materials. For instance, solid colors in the Kaleidoscope ® Color Grove ™ Glass Mosaic Tiles start at $4.26/s.f., stock and made-to-order Kaleidoscope ® Colorways Blends will range in price from $6.00 to $10.50 per s.f.
If your budget is in the $200-$300 range, take a look at Kaleidoscope ® Color Sheer ™ transparent glass mosaic, Kaleidoscope ® Color Swirl ™ marbleized glass mosaic, and Aura ™ Metallic Glass Mosaic Tiles.
For those of you who want a kitchen that is a true showplace, budgets in the $300-$500 range can easily be accommodated with these high-end glass tile lines: Illuminati ® 15mm Glass Mosaic Tiles, Prism ® Squared Glass Tiles, and Prism Glass Subway Tiles.
When considering colors to use in your new glass mosaic tile kitchen backsplash, there are several things to take into account. Look around the kitchen. If you are not going to be doing a complete renovation, the cabinets, countertops, and flooring are probably not going to change. So consider those colors and finishes carefully. Are your cabinets and flooring dark or light tones? If they are dark, consider a complimentary light tone for the glass mosaic tile you choose. The use of multiple dark colors in a standard-sized room can cause the room to appear much smaller than it is. If your flooring and cabinets are done in lighter tones, consider a contrasting deep or bright color or blend of colors for the mosaic tile on the backsplash. Brighter or deeper tones will create a focal point within the lighter base colors. This is especially useful in kitchens where the floor may not be the best asset, as an exciting backsplash design will draw visitor's attention away from the less impressive features, and help them to focus on the colorful backsplash you've just installed.
If your design preference leans toward the ultra-modern, another option you might want to consider would be stainless steel mosaic tiles for your kitchen backsplash. Our Alchemy ® Stainless Steel mosaic tiles are a popular choice for use in both residential and commercial kitchen backsplash and wet bar applications.
If you're looking for something special, and haven't found it yet, consider our Custom mosaic tile designs, borders and patterns. You can choose from one of our suggestions, or send us a photo or link to something you'd like to recreate, and our design & fabrication departments will be happy to work up an estimate and sample for you.
Installation costs will vary from one region to another, but we've found that many homeowners have decided to do the work themselves rather than hire an installer. If you're comfortable with doing the work yourselves, we support you, and we've published our Glass Mosaic Tile Installation Tips for just that purpose. However, we do suggest that you keep in mind that professional installers are just that- professionals- and they have the experience and ability to do the job right the first time. For that reason, if you have any concerns that you may not be ready to tackle a project like this, we strongly suggest that you consider hiring a professional. Try interviewing a couple of local installers with experience in glass mosaic tile work, and you may find out that you are much more comfortable letting someone else handle the job. When hiring a contractor for this or any other job, always make sure to verify that the contractor is licensed and bonded according to the laws of your state.When designing your kitchen, bath, or any other room of your home, we suggest you take these two pieces of advice:
1)Take your time. If things aren't coming together just as you want them, take a step back, and reconsider. The kitchen in most homes acts as a central meeting place for family members and friends as well as a place to prepare food. So making sure that the final product is everything you hoped for is important, and the right environment will add tremendously to your quality of life.
2) Have fun. Get your spouse, friends, and children involved if they're interested. Try something new, or dramatic if that style fits your personality. Design work is fun, especially when it's for your own home. Enjoy yourself, and create a "Room Made For Living!"
©2021, Mosaic Tile Supplies, LLC. All Rights Reserved. This article may not be re-published in whole or in part without written permission from Mosaic Tile Supplies, LLC.
Thanks!
This field is required
This field is required
This field is required